Connecting communities and real estate for the future generation.
A Little About US
We provide the every-day investor an opportunity to participate in institutional grade real estate investments through our strategic partnerships.
Founding
Thomas Capital was founded by Jeff Donalson on October 24, 2013. Our goal has been to identify and acquire value-add commercial real estate assets for long term investment throughout central Florida. Thomas Capital has become an investment vehicle for local investors to passively invest in real estate. Our investment strategy has been to acquire real estate with significant intrinsic value as a method to create wealth through value creation and provide sustainable cash flow for our investors long term.
Properties
Thomas Capital currently owns and manages over 500,000 SF +/- of commercial real estate throughout Polk County. Each property is setup as an individual investment, rather than a portfolio. This gives our investors an opportunity to realize larger returns and participate in other benefits, such as depreciation, from being a direct owner in the real estate. Moreover, we believe in co-investing with our investors to level out the playing field between ourselves and our investors.
New Opportunities
We are actively pursuing new opportunities; however, throughout the ups and downs of every market, we are very selective in acquiring new assets so that we maintain our investors' returns and cash flow expectations in each investment. Our strategic partnerships allow our investors to participate in institutional level investments that an individual investor normally would not have access to. These partnerships allow us to structure passive and protected real estate investments directly to our investors.
Locations
The majority of our assets are located in urban centers or downtowns where commercial businesses and small businesses thrive. We recognize that main street America has made a comeback, and we constantly strive to connect the local community to the real estate in each property we acquire and redevelop. We recognize the importance to provide a tenant (a small business) the opportunity to grow and thrive long term, not just pay rent.
Explore our recent projects.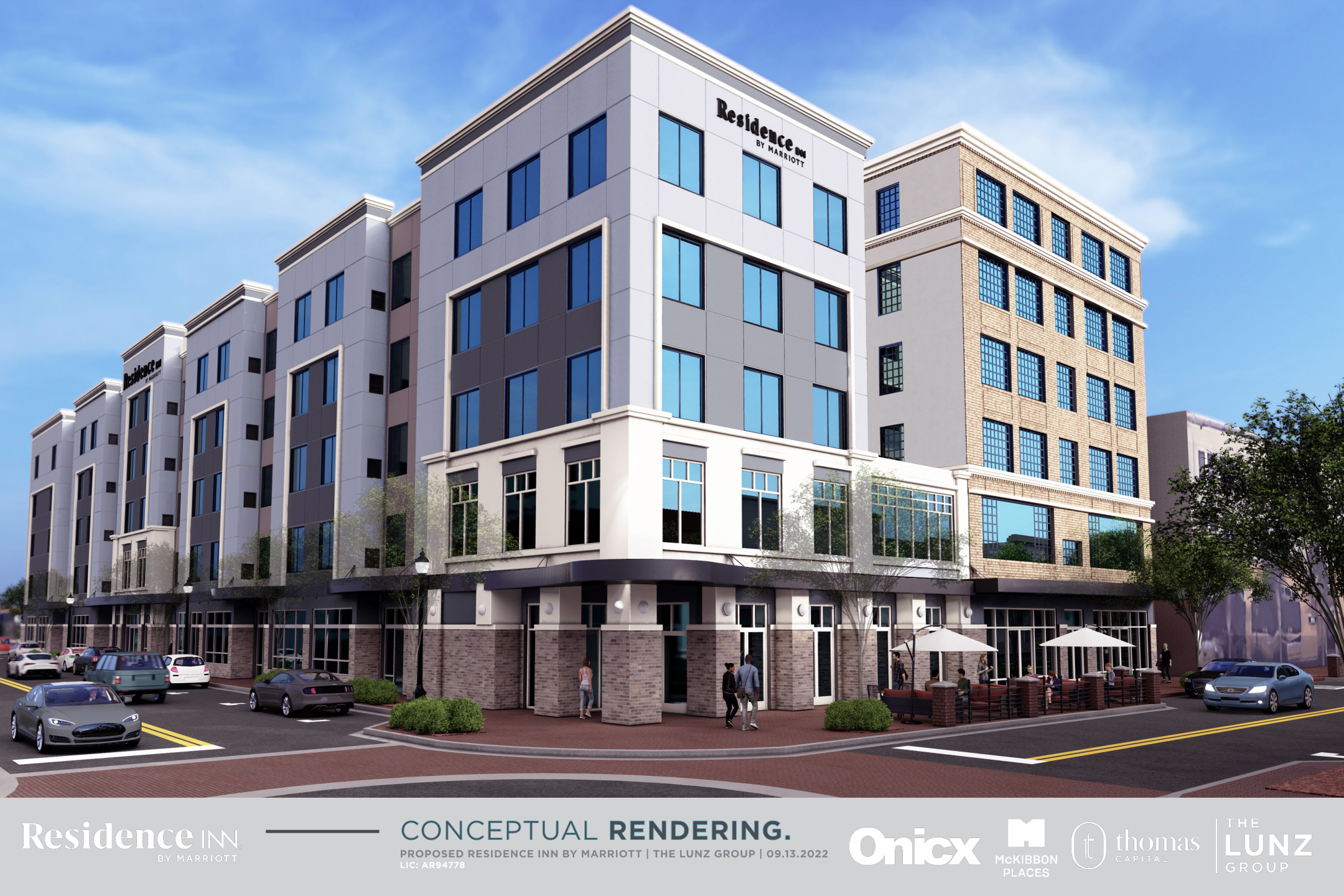 WINTER HAVEN RESIDENCE INN
310 West Central Avenue, Winter Haven, FL 33880
Located in the crosshairs of downtown Winter Haven at the southwest corner of West Central Avenue and Third Street, Thomas Capital has partnered with Onicx Management Group, LLC to bring a newly constructed Marriott Residence Inn to the downtown core. The Project will include an upscale extended stay hotel that will feature an additional 9,624 SF +/- of retail and restaurant space on the ground floor. The Project will be owned as a joint venture between Onicx and Thomas Capital in a newly formed joint-venture entity, Onicx Taylor Hospitality, LLC.

The Project has been fully permitted and is expected to begin break ground in fall 2022 with construction lasting approximately 24 months. The Project will include demolishing the existing buildings except for the iconic 6-story Taylor Building, which sits at the northwesternmost point of the site. The Taylor Building will be completely renovated and redeveloped as a historic, adaptive reuse of the structure. The design pays homage to the old architectural features and the new construction in an attractive, modern blend of each.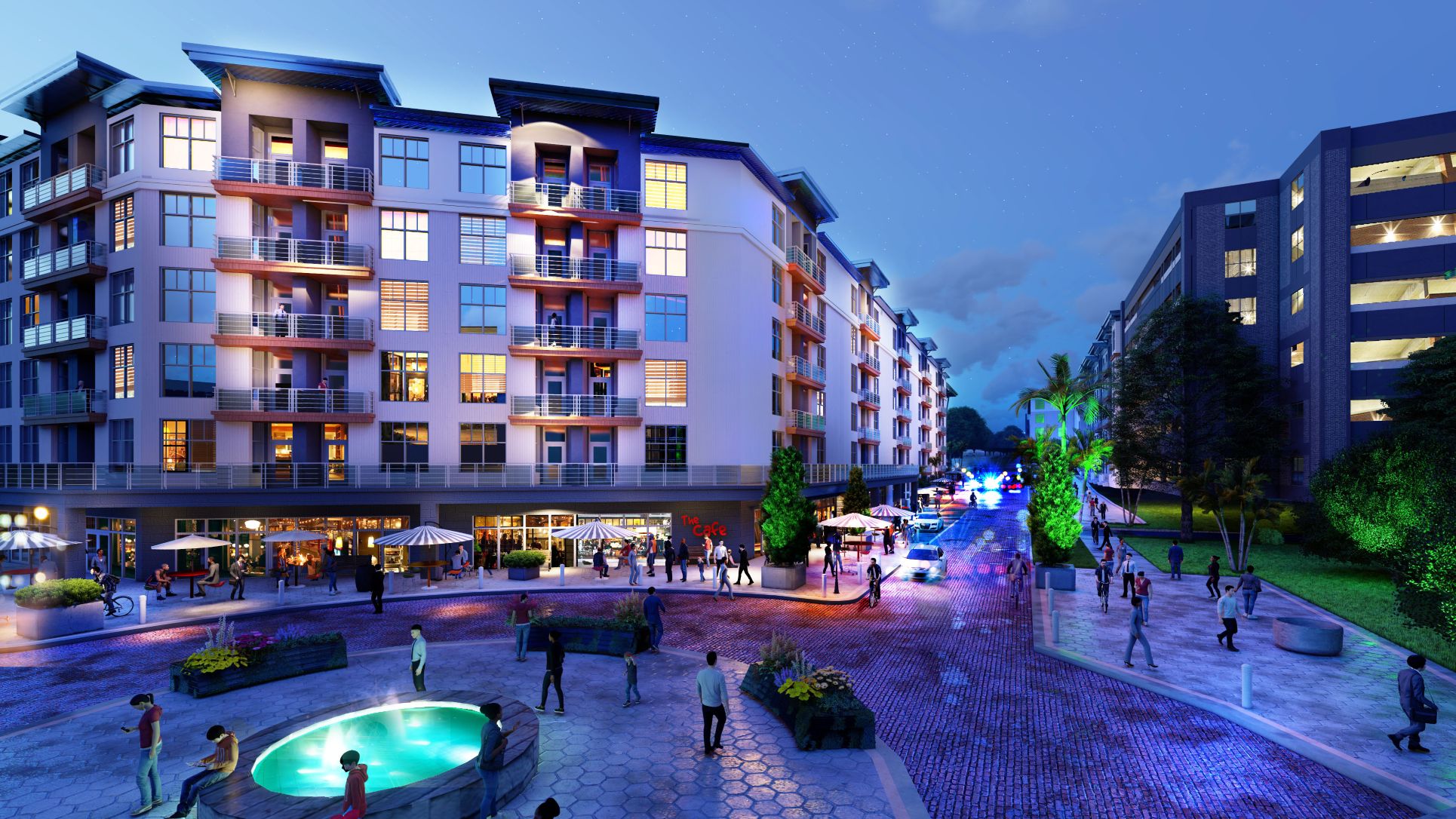 DOWNTOWN WEST MIXED USE DEVELOPMENT
300 West Lime Street, Lakeland, FL 33815
Located just 0.3 miles from the core of downtown at the southeast corner of Sike Boulevard and Lime Street, the 17-acre property will be transformed into a mixed-use complex to provide a sustainable, urban density concurrent with the booming growth of downtown. There are no plans to change the existing use of The Ledger building. The rendering above is conceptual in nature and not reflective of final design.
The Project will include a dense mix of multifamily, retail and structured parking to illuminate the gateway to Downtown West and compliment the growth throughout downtown and the CRA. Additionally, the Project will include a multimodal connection to from the Lake Hunter trail to the north to allow for more of an urban-friendly and connected pedestrian environment.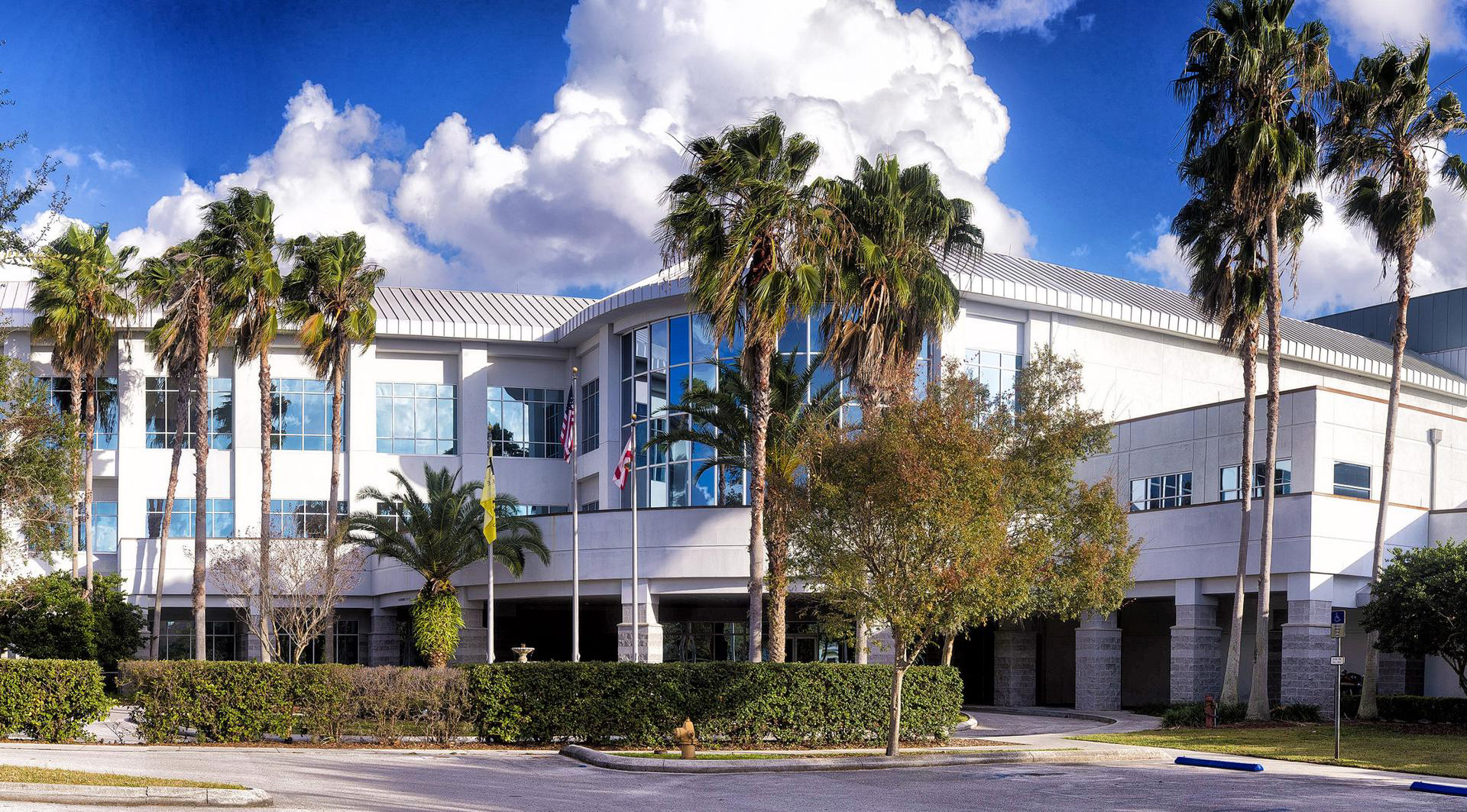 LAKELAND LEDGER PROPERTY
300 West Lime Street, Lakeland, FL 33815
In 2016, Thomas Capital partnered with ARCTRUST to purchase the 17-acre +/- site in downtown Lakeland known as the Lakeland Ledger for $19.5 Million under the joint-venture entity Lakeland West Lime, LLC. At the time of purchase the property included an absolute net lease from Ledger Media Group for 16+ years. Originally constructed by the New York Times in 1997, the building equals 181,720 SF +/- of rentable space, including 58,750 +/- SF of Office Space and 122,970 SF +/- of industrial warehouse / printing space.

Since purchasing the property on December 6, 2016, the Ledger Media Group has been acquired by New Media and, subsequently, Gannett Co., which is the parent company of USA Today. The printing space includes a 3-story industrial printing press that is currently one of the most active printing presses in the country. Gannett Co. currently subleases approximately 45,000 SF +/- of the existing office space to Publix Supermarkets. We value the significance of this property and its location within downtown Lakeland and aim to hold the asset long term.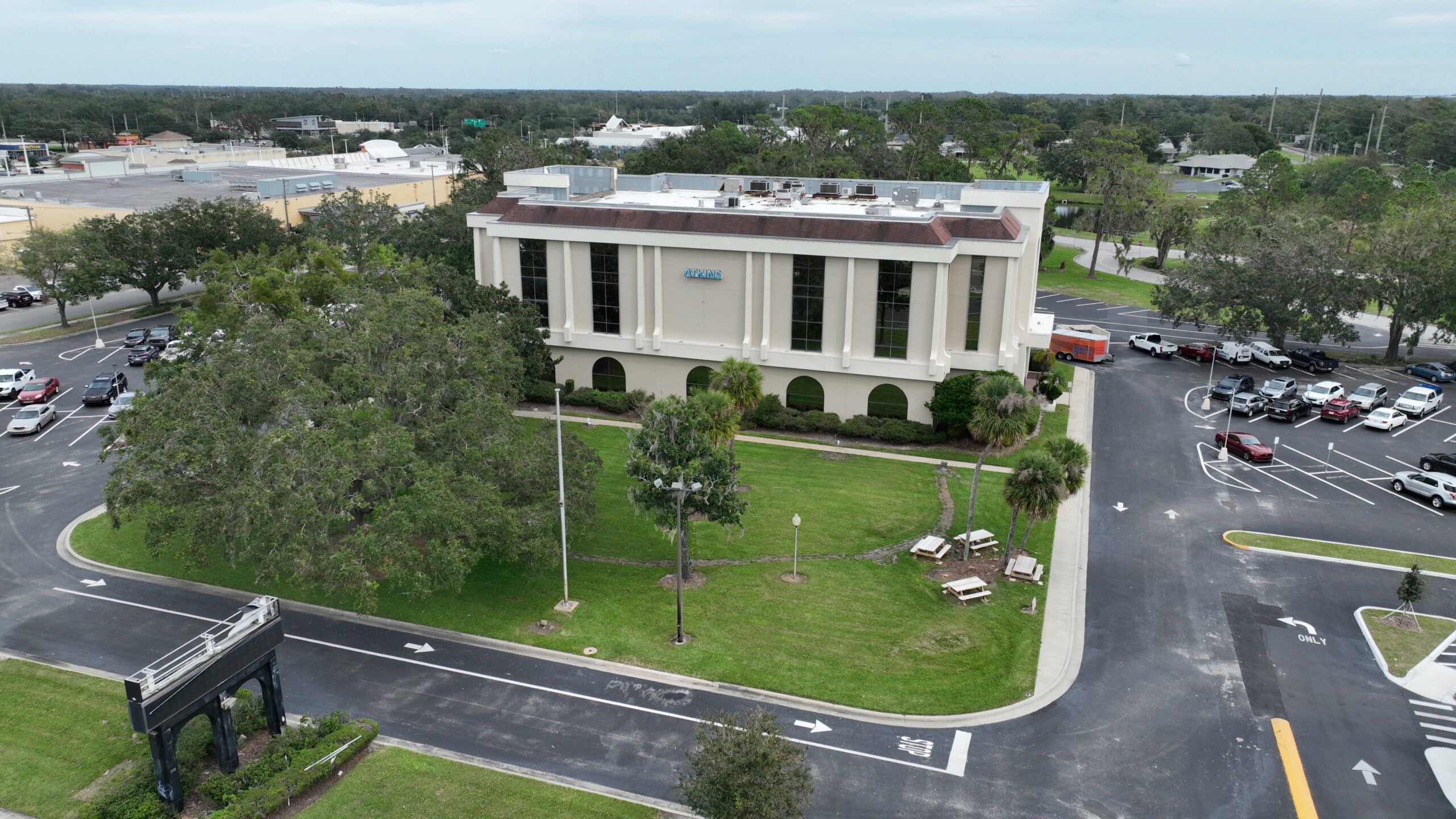 POLK BUILDING
600 North Broadway Avenue, Bartow, FL 33830
Thomas Capital and its investors acquired the 7.13-acre +/- property on October 13, 2017, for $2.1 Million from BB&T under the entity Polk Building, LLC. The Property includes 7.13-acres +/- total, divided into 4.3-acres +/- of developed and 2.8-acres +/- of undeveloped land, and approximately 50,000 SF +/- of existing office space.

Upon acquiring the Property from BB&T in 2017, Thomas Capital has increased occupancy by over 400% and is currently 95% occupied. In June of 2020, Thomas Capital re-zoned the property from Office Professional to Commercial C-2. The Property is located on Highway 98 (Broadway Avenue) and sits directly across from FDOT District 1 headquarters as you enter downtown. Like the other assets in the portfolio, Thomas Capital believes there is a significant amount of intrinsic value in the underlying real estate and plans hold the property long term for future value and the possibility of multiple redevelopment projects.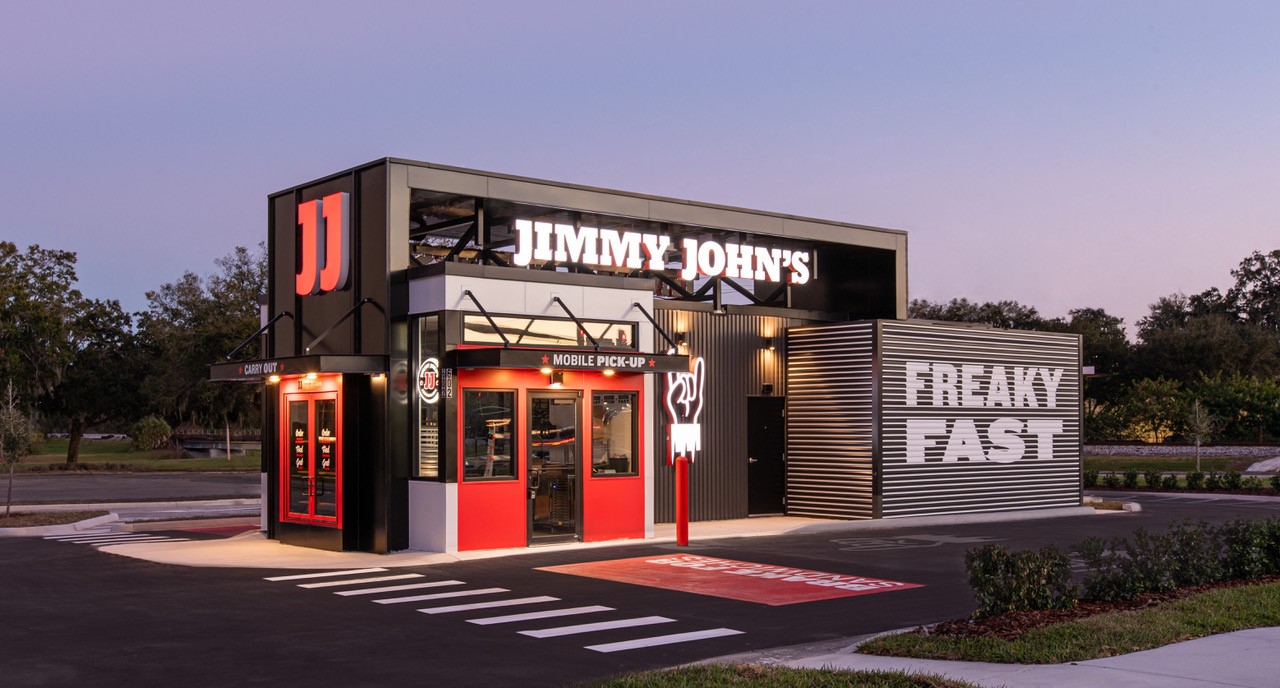 JIMMY JOHNS MODULAR DRIVE-THRU ONLY
602 North Broadway Avenue, Bartow, FL 33830
1100 Third Street SW, Winter Haven, FL 33880
In January 2022, Thomas Capital completed the development of the country's first modular Jimmy Johns double drive-thru concept. Located at the southwest corner Polk Building property, the modular concept was a first of its kind project for Inspire Brands, Jimmy John's parent Company, who owns many well-known national brands such as Dunkin' Donuts, Jimmy Johns, Buffalo Wild Wings, Rusty Taco, Baskin Robins, Arby's and Sonic. Initially, this concept was developed by need to create an innovated, but inexpensive solution for the tenant while overcoming the multiple challenges within the restaurant industry presented by COVID-19. Since opening, dozens of national brands have copied this conceptual model for their own brands. From signing the contract with the architect, the entire project was designed, permitted, built and opened for business within 150 days!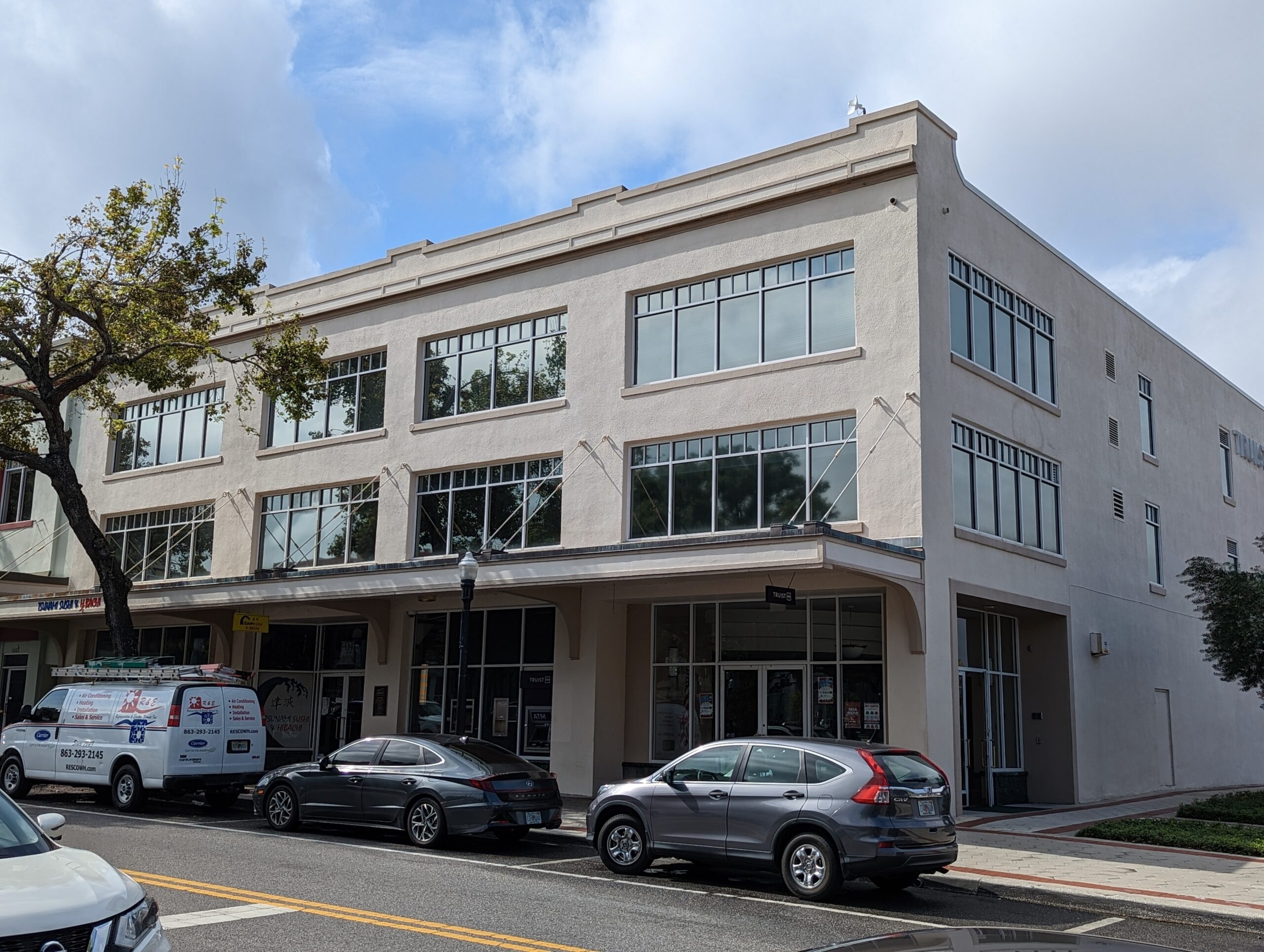 MUNN PARK BUILDING
114 North Tennessee Avenue, Lakeland, FL 33801
Thomas Capital and its investors acquired the 29,280 SF +/-, 3-story Building on July 18, 2017, for $1.7 Million from BB&T under the entity Munn Park Building, LLC. The property is conveniently located directly on Munn Park in downtown Lakeland and adjacent to the City of Lakeland's Lot C parking lot directly to the north. Immediately upon purchasing the property, Thomas Capital began construction in a portion of the old bank space on the first floor to make room for Tsunami Sushi & Hibachi, an approximately 4,000 SF +/- restaurant that has quickly become a favorite sushi spot for Lakeland residents and visitors alike. Currently, the property is 100% occupied with the entire 3rd floor leased for 15+ years. Thomas Capital and its investors believes in the intrinsic value of this location and plans to hold this asset for its cash flow and long-term value.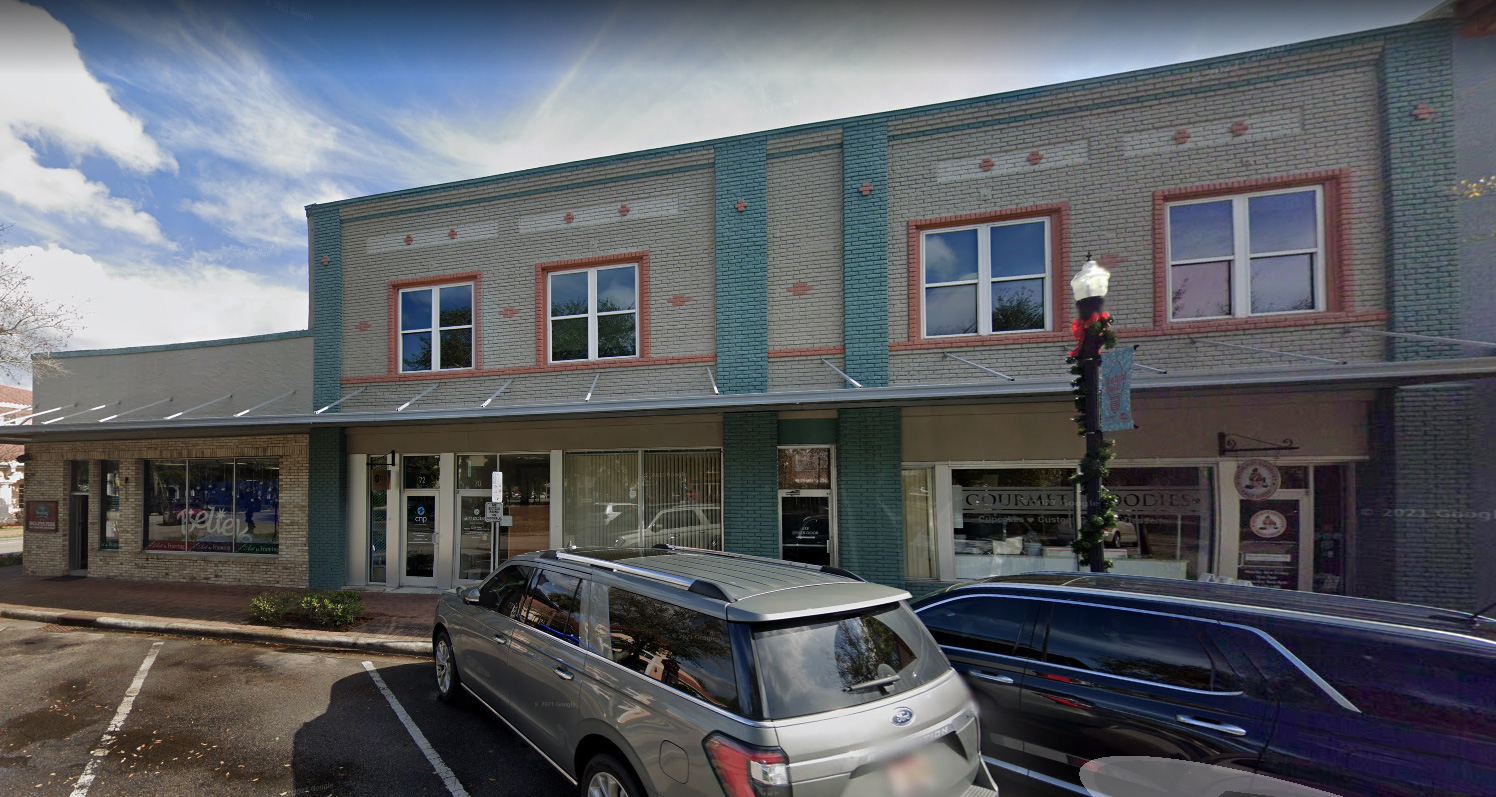 88TH & 4TH, LLC
68-88 Fourth Street NW, Winter Haven, FL 33881
324 Avenue A NW, Winter Haven, FL 33881
Located directly on Central Park in downtown Winter Haven, this 1920s building was acquired by Thomas Capital and its investors in 2014 for $700,000. Although the property was virtually vacant at the time, we closed on the Property 100% occupied on August 29, 2014. Today, we enjoy working with the same tenants, such as Gourmet Goodies YUM!, Scores Family Restaurant, CNP Agency, Amedisys Home Health, and Art & Framing on the Park. Our tenants continue to see significant success in their location while enjoying competitive rental rates that allow them to re-invest and grow their businesses in downtown Winter Haven.

In 2016, the 1920s renovation for CNP Agency on the second floor became a finalist for the coolest offices in the Tampa Bay area! This property is a perfect example on how we strive to connect the community to our projects and believe a strategic partnership with our tenants is best for our investors, the tenants, and the community.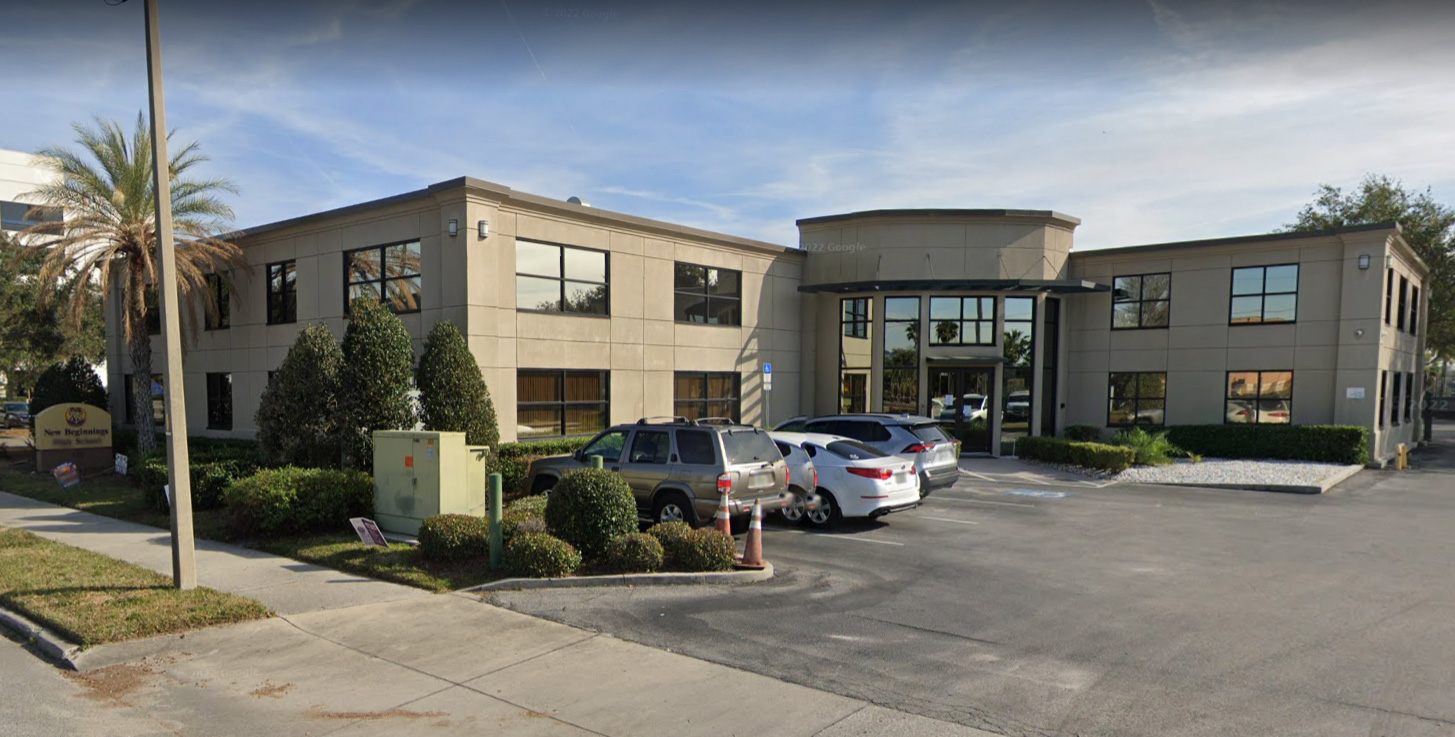 MAIN STREET BUILDING, LLC – NEW BEGINNINGS HIGH SCHOOL – LAKELAND CAMPUS
320 West Main Street, Lakeland, FL 33815
Thomas Capital and its investors purchase the Property located at 320 West Main Street in downtown Lakeland for $1.4 Million in May of 2016. Immediately, and in conjunction with Register Construction, the building was completely renovated to fit the needs of New Beginning High School's Lakeland Campus. The construction and permitting were expedited and finished to allow New Beginnings High School to open in August 2016 for the 2016-2017 school year.

New Beginning High School is a diversified charter school that strives to transform each student academically and socially into productive, independent members of society. New Beginnings provides a customized learning platform for each student to allow them to succeed despite background, age, etc. New Beginnings' mission is to create the best educational environment for students who are seeking a New Beginning and they have excelled at this location in downtown Lakeland.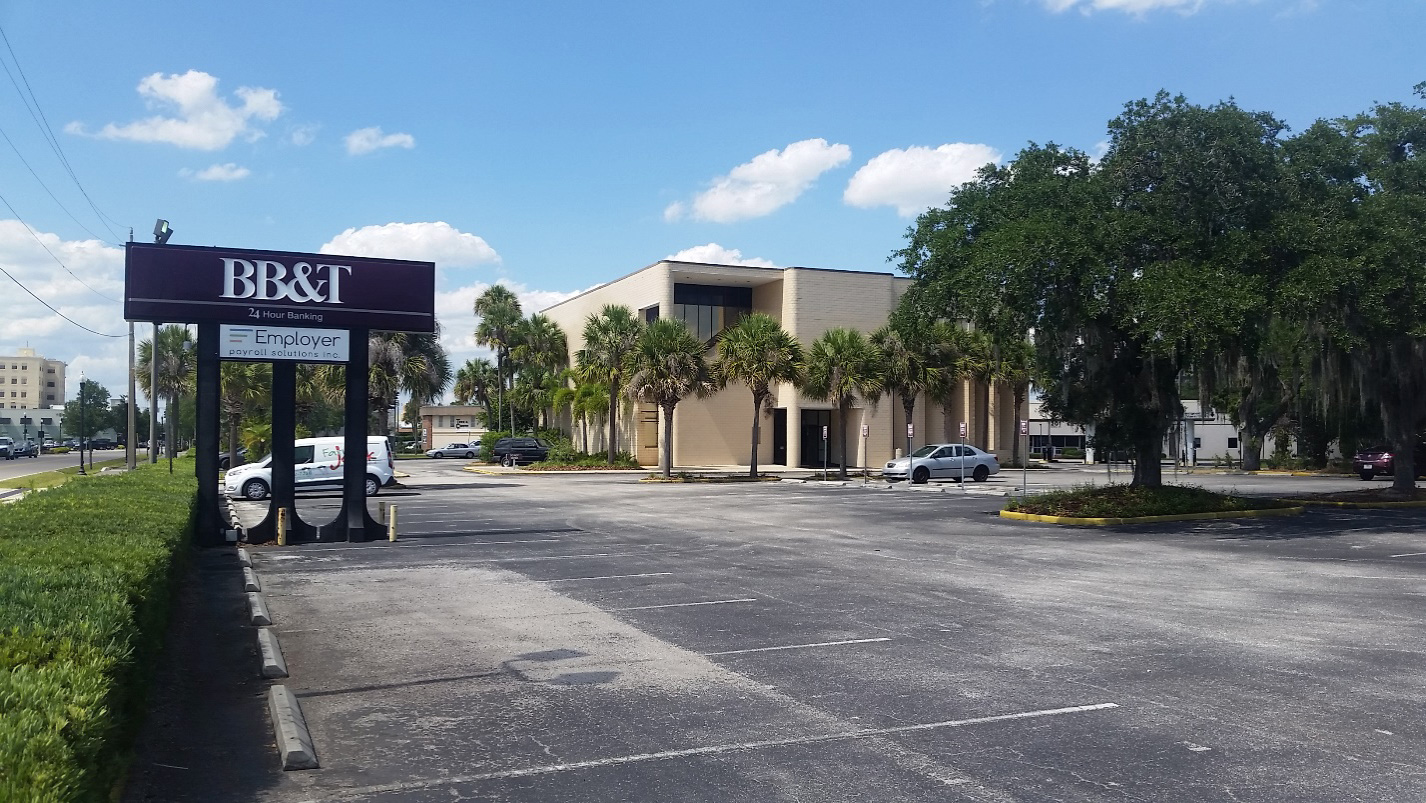 MAGNOLIA BUILDING (SOLD)
250 Magnolia Avenue SW, Winter Haven, FL 33881
Located in the heart of downtown Winter Haven, Thomas Capital and its investors acquired the 26,942 SF +/-, 2-story Building on April 22, 2016, for $2.5 Million from BB&T under the entity Magnolia Building, LLC. The property is centrally located in downtown Winter Haven along Third Street SW and just north of Grove Roots Brewery on Avenue C SW. The property's parking lot is home to the famous Downtown Winter Haven Farmer's Market. Although almost fully occupied during its ownership, we decided to dispose of this asset in May 2021.